Introduction
This is the archive site for the 1980's software company known as Penguin Software and Polarware.
Penguin Software published some of the first computer graphics software for personal computers, allowing people to draw and create 3-D wireframe images and animation on the first personal computer to feature color graphics capabilities: the Apple II. We also published some of the first Macintosh software, as well as software for early Atari, Commodore, and IBM personal computers.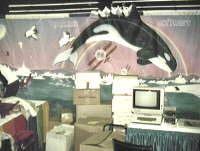 Although our first graphics software was published back in 1979, the company named Penguin Software and then Polarware existed from 1980 to 1987. It is probably best remembered by that flightless Antarctic bird, but a book company with a similar name objected to it and is the reason for the change to Polarware. (Our attorney advised us that even though we could win their challenge, they had enough lawyers and money to bankrupt us in the process should we try.)
Our first programs featuring the flightless Antarctic bird were for drawing, manipulating, and animating graphics. Complete Graphics System and Graphics Magician were among the most popular software packages back then. Since the Apple II was the first personal computer that had color graphics capabilities, you could say we were among the earliest pioneers in much of the field of computer graphics. For a while, a majority of educational software and many of the games released for the Apple II opened with the "Graphics created with Penguin Software's Graphics Magician" acknowledgement. Some of our software resides in the archives of the Smithsonian National Museum of American History in Washington D.C. We imagine that it's probably in a crate like those depicted in the closing warehouse scene of Raiders of the Lost Ark, but we're impressed anyway. You can also find an extensive collection of all the software on these pages at the International Center for the History of Electronic Games in Rochester, New York.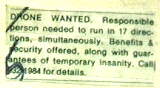 There's plenty of free stuff you can download in the following pages. After passing through a few hands, Mark bought back the rights to most of the old Penguin Software/Polarware library, and as much as we can make available is here for you to try if you want to see what software was like back in the ancient times. Most of the files are archived in DSK format, which will run with Apple II emulator software. Some PC versions are available too, as well as a few for other systems.